Homer Simpson
Homer Jay Simpson is a main fictional character in the animated television series The Simpsons and father of the eponymous family. He is voiced by Dan Castellaneta and first appeared on television in The Tracey Ullman Show short "Good Night" on April 19, 1987. Homer was created and designed by cartoonist Matt Groening while he was waiting in the lobby of James L. Brooks' office. Groening had been called to pitch a series of shorts based on Life in Hell but instead decided to create a new set of characters. The character received his first name from Groening's father. After appearing on The Tracey Ullman Show for three years, the Simpson family got their own series on Fox, which debuted December 17, 1989.
Homer Simpson
Homer is the boorish father of the Simpson family. With his wife, Marge, he has three children: Bart, Lisa and Maggie. As the family's provider, he works at the Springfield Nuclear Power Plant. Homer embodies several American working class stereotypes: he is crude, overweight, incompetent, clumsy, and lazy; however, he is also fiercely devoted to his family. Despite the suburban blue-collar routine of his life, he has had a number of remarkable experiences.
In the shorts and earlier episodes, Castellaneta voiced Homer with a loose impression of Walter Matthau however, during the second and third seasons of the half-hour show, Homer's voice evolved to become more robust, to allow the expression of a fuller range of emotions. He has appeared in other media relating to The Simpsons – including video games, The Simpsons Movie, The Simpsons Ride, commercials and comic books – and inspired an entire line of merchandise. His catchphrase, the annoyed grunt "d'oh!", has been included in The New Oxford Dictionary of English since 1998 and the Oxford English Dictionary since 2001.
Homer Simpson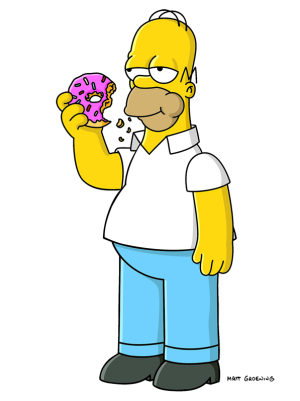 Homer Simpson